You will find Petit Rocher about 12 miles from Bathurst on the banks of the beautiful Baie des Chaleurs, Gloucester County, New Brunswick.
The first settlers of Petit Rocher, arrived around 1797 and they were
Pierre Laplante, Jean Boudreau and Charles Doucet
PIERRE LAPLANTE
Pierre Laplante settled just to the South of the little brook the called "little brook by the church" or "Petit ruisseau de l'église" , Jean Boudreau settled a bit above the "brook" and Charles Doucet to the North of Pierre Laplante. Laplante was born in 1779 in Nicolet PQ., son of Joseph Laplante and Cecile Boudreau.
Joseph Laplante married Cecile Boudrot or Boudreau, 20/26 Feb 1781, at Nicolet.
Joseph (b. date not shown) was s/o Jean Baptiste Laplante & Marguerite
Lacotte, of Anglomeme, Angoumois, France Joseph had 4 sisters.
1. Marie Anne who married Jean Baptiste MARCOT Nov. 7/1774
2. M. Antoinette m. Francois CLOUTIER, 2 July 1783
3. Marguerite m. Jean-Baptiste DUMAS, 22 Oct. 1787
4. M.Josephte m. Francois DESHAIES 7 Jan. 1789.
Cecile Boudreau, born Oct. 21/1761 was d/o Athanase Boudreau & Felecite Orillon, of Acadia.
Athanase Boudreau, m. Felicite Orillon dit Champagne on May 7/1759 at Quebec city
Joseph Laplante married Marie Louise Coltret at Nicolet on Apr., 11/1758
Marie Louise Coltret, b. June 28/1731, d/o Pierre Coltret & Marie Louise Therrien (b. 1687) and grand daughter of Rene, store keeper for H.M. and Marguerite Gladu
Note: Marie Louise Coltret m. 1st, Ignace Daniau, 21 Sep 1750, Nicolet m. 2nd, Joseph Laplante, 11 Apr 1758 " **NOTE** Thanks to Paul B. Shaw and Norm Cazavant for the information on the Laplantes
JEAN BOUDREAU
Jean Boudreau was the son of Joseph Boudreau who was born in Beaubassin in 1738 and died in Nipisiguit (Bathurst) Dec. 8/1797 at the early age of 59. Jean's brother Cyprien Boudreau, born around 1780, came to Petit Rocher around 1805,
Joseph was the son of Anselme Boudreau and Marguerite Gaudet. He married Jeanne Marie Hache-Gallant daughter of Jacques Hache-Gallant and Josette Arsenault on Jan. 6/1761 in Ristigouche P.Q., Joseph was on Miscou Island in 1778
Anselme was the son of Michel Boudreau and Madeleine Cormier , born around 1706, married around 1725 to Marguerite Gaudet, daughter of Claude and Margeurite Belou
Michel Boudreau was son of Michel Boudreau and Michelle Aucoin , born 1660, married around 1690 to Madeleine Cormier daughter of Thomas and Madeleine Girouard
Michel Boudreau born 1601, married around 1642 to Michelle Aucoin. He was Lieutenant-Governor of Port Royal and judge there
---------------
Laurent Boudreau, son of Cyprien married Marie Anne Boudreau, daughter of Athanase Boudreau Pierre Laplante's father-in-law.. Laurent and Marie Anne had the following children, 1...Narcisse 2...Flavien 3...Flavie 4...Guillaume 5...Charles 6...Alexandre 7...Benoit 8...Jerome (school teacher) 9...Delima and 10...Bernard
CHARLES DOUCET
Charles Doucet, was also acadian, Charles was the son of Michel Doucet and Marie Anne Boudreau. Most of the Doucet family settled in Petit Rocher except for Michel's brother, Pierre, or "Pierrot", he was born in 1752, he was on Miscou Island from 1776 to 1780, and died at Bathurst March 25/1827.. and he was from Beaubassin, Acadie.
According to Bona Arseneau, historian:
Michel Doucet was the son of Charles Doucet and Anne Arseneau (daughter of Francois and Marguerite Bernard) they married before a witness on Sept.12/1776 and marriage was rehabilitated in Bonaventure P. Quebec on Nov. 26/1779
Charles, was the son of Francois and Marie Poirier he married Anne Arseneau on Jan. 10/1746
Francois was son of Toussaint Doucet and Marie Caissy and he married Marie Poirier Nov. 20/1715 she was daughter of Michel dit de France and Marie Chiasson
Toussain Doucet dit Laverdure was son of Pierre Doucet and his second wife Heriette Pelletret, he married around 1690 , Marie Caissy daughter of Roger and Marie Poirier
Pierre Doucet dit Laverdure, born around 1621, macon by trade, son Germain Doucet dit Laverdure and ? Bourgeois
Germain Doucet dit Laverdure, born around 1595, came to Acadie around 1632, he was a Major for Governor Charles D'Aulnay.
-----------------------
Between 1800 and 1810, they were soon joined by a few other settlers such as:
Cyprien Boudreau and his wife Francoise Melanson, he was brother to Jean and he died in Petit Rocher on Oct. 10/1827, and they had the following children: 1...Sebastien 2... Laurent 3...Louis 4...Francoise 5...Marie 6...Rose 7...Marguerite 8...Judith 9...Felicite 10...Helene
Thimothé Boudreau and his wife Vénerande Doucet, he was Cyprien's brother
Francois-Xavier Boudreau his wife Henriette Roy he was Pierre Laplante's brother-in-law
Maxime Melanson and wife Marguerite Doucet joined him when they married, he is the ancestor to Monseigneur Arthur Melanson
Joseph Roy husband of Judith Boudreau
Jean Grant husband of Anne Thibeault
Benjamin Lejeune husband of Marie Doucet and his father Joseph Lejeune dit Briard who had married at Quebec in 1780 to Marie Messier.
Michel Frenette husband of Marie Degrace
Joseph Arsenault
Antoine Degrace husband of Fancoise Boudreau
Jean Baptiste Godin husband of Francoise Hache-Gallant, along with his father, Francois Godin (my ancestor), Francois had his five sons with him at the time, Jean Baptiste, Remi (my ancestor), Marin, Joseph and Sylvestre. When Francois passed away he left his land to his son Jean Baptiste who shared it with his brother Marin, his daughter Domithilde, Hubert Cormier and Narcisse Boudreau.
Godin genealogy and history can be found on my personal genealogy page at
Irene's Genealogy and Family Tree
The Comeau brothers Raphael, born May 7/1781, Isaac, born Jan.5/1788, and Charles, born June 18/1785 were also some of the founders of Petit Rocher all sons of Francois Comeau. Francois son of Ambroise et Marguerite Cormier was made prisonner in 1755, when he was about 12 years old. When he was about 18 years old, he learnt his parents were in Carleton (Tracadieche) P.Q., he deserted the English marines and came to Carleton, where he married on July 27, 1778 Marie Baudry daughter of Francois et Marguerite (Boiselle) Loisel
Francois and Marie had other children, 1... Celeste born July 25/1779 2... Julienne born May 02/1783, married Jan 23/1806 Isaac Ferlatte son of Jean Baptiste et Catherine Savoie 3... Marguerite born Dec. 4/1802 4...Rosalie born July 24/1790
The first registers kept by the Rockville church for Petit Rocher began in 1824. In 1828, Petit Rocher was served by the missionaries of Nipisiquit (Bathurst).
Robert Cooney when visiting Petit Rocher around 1830 states that there were only one house which had any paint on it that of Charles Comeau. The other 25 or so homes, had but a stove, and a few utensils and some cribs
But Petit Rocher prospered quite rapidly I guess as this is a picture of the School in 1888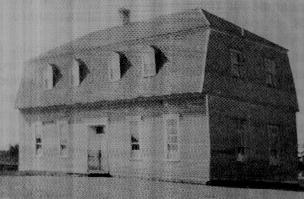 If anyone has anything to add or finds any errors please contact me